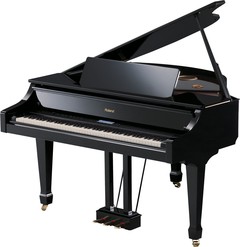 Roland U.S. has announced the new flagship of the V-Piano® series—V-Piano Grand.
This new instrument combines award-winning V-Piano technology with an innovative multi-channel sound system in a stylish polished ebony grand piano cabinet, providing unparalleled touch, playability, and sound for even the most discerning pianist.

At the heart of the V-Piano Grand is its revolutionary piano component-based modeling technology, which meticulously recreates the complex interactions of the components inside an acoustic piano, resulting in rich, realistic, organic grand-piano sound and performance. Stepping up from the previous generation, the V-Piano Grand's sound generator has been further improved, and new piano models have been added to the onboard library.
V-Piano Grand features
Roland's revolutionary V-Piano modeling technology in a grand cabinet.
Onboard multi-channel sound system for true acoustic grand-piano sound.
Deluxe PHA III Ivory Feel Keyboard with Escapement.
Progressive Damper Action pedal for true acoustic grand-piano response.
Elegant, traditional grand-piano cabinet design.
New modeled pianos onboard fully optimized for the V-Piano Grand.
More information: Roland / V-Piano Grand