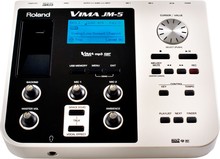 Roland has announce the new VIMA JM-5 Sound Module.
With thousands of high quality sounds, elegant design, and an easy-to-use interface, the JM-5 is the perfect all-in-one solution for full control of musical backgrounds at home or at any entertainment venue.

The JM-5 is a single audio unit dedicated to live vocal performance, and is perfect for karaoke, amateur and professional singers, piano players, and many entertainment venue owners. Equipped with a top-level sound engine, the VIMA JM-5 includes 128-voice polyphony, an SSC Sound Engine with over 1,000 sounds and 57 drum kits.
VIMA JM-5 features
All-in-one playback and performance module.
Over 1,000 tones, 57 drum kits, and 128-voice polyphony.
Plays back SMF, MP3, WAV, MP3+CDG, and VIMA Tunes files from an external USB storage device.
Tempo control, key change, and Melody Mute/Center Cancel functions.
Supports slide shows and lyrics display.
Two vocal mic inputs with onboard Vocal Effects, including Harmony, Roland Space Echo, Ambience and Voice Transformer.
Audio WAV recording to external USB storage device.
Composite Video Out to display lyrics and/or chords of the selected songs as well as digital-photo slide shows.