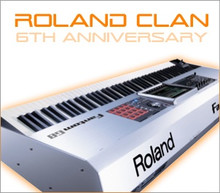 Roland Clan is celebrating its 6th anniversary with another $5 sound library.
To celebrate our sixth anniversary, for a limited time we offer a special Sound Gift sound library co-developed by Sinevibes, which costs just $5. It comes with over 100 MB of original sounds made with Roland's latest and most powerful synthesizers like Fantom-X, Fantom-G, V-Synth and V-Synth GT, including 10 multisampled instruments, 10 drum loops, 10 bassline loops and 10 ambient loops all in AIFF and WAV formats.
Each purchase will contribute to a fundraising campaign to raise $1,000 by the end of March, to keep the site online and free of advertisements.
A purchase of the Sound Gift will also give you a chance to win $600 of goodies:
Visit the Roland Clan website for more information.