Roland has announced the availability of its four newest digital pianos, the GP607, FP-90, DP603, and RP501R.
Well-suited for a diversity of audiences, each one features Roland SuperNATURAL technology for superior sound, high build quality, and Bluetooth wireless connectivity options.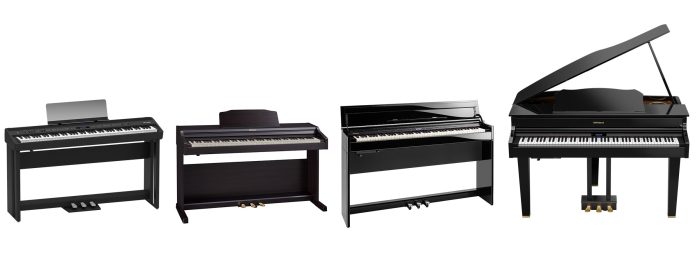 Offering authentic tone and touch, the GP607 Digital Piano ($5,999 MSRP) is a stylish and sophisticated mini grand piano for the home. It features Roland SuperNATURAL modeling technology for high-quality tone, complemented by a premium, multi-channel speaker system that provides top-quality sound for both piano playing and listening to music. Bluetooth® wireless support for tablet or smartphone allows audio streaming and connectivity with the latest apps, for additional learning and performance options. Featuring graceful curves, an elegant, opening lid, and polished ebony or polished white finishes, the handsome GP607 delivers superior piano performance in an impressive instrument ideally suited for modern living.

The FP-90 ($1,799 street) is the latest-generation model in the popular FP series of portable digital pianos, featuring SuperNATURAL modeling technology. Based on customer feedback, it provides top-level piano performance, attractive design (available in black or white) with optional matching stand, and easy portability in one instrument, making it equally suited for home enjoyment and professional use by stage performers. The FP-90's expressive tone and exceptional feel are complemented by a newly developed onboard audio system that provides rich, full sound. In addition, Bluetooth® wireless support for tablet or smartphone allows audio playback and connectivity with the latest apps.

Blending classic sounds with contemporary, slim design, the Roland DP603 Digital Piano (starting at $1,999 street) is a stylish home instrument ideal for today's piano player. It offers a highly expressive playing feel with the new PHA-50 keyboard, SuperNATURAL modeling technology, and numerous onboard practice features. Bluetooth® wireless support for tablet or smartphone enables audio playback and connectivity with the latest apps. The DP603 comes in polished ebony, polished white, or contemporary black finishes, allowing users to choose the ideal look to complement their home furnishings.

The practical RP501R Digital Piano ($1,499 street) is an affordable home instrument with top-quality touch and tone via Roland SuperNATURAL Piano technology. Ideal for young families and anyone who wants to have fun with the piano, the RP501R offers premium performance that will last through years of enjoyment. More than 300 additional sounds and 70-plus onboard rhythms help players explore their creativity. Bluetooth® MIDI and USB connectivity to a tablet or smartphone gives access to piano apps for additional learning and fun. The RP501R is available in contemporary black, contemporary rosewood, and white finishes.
More information: Roland