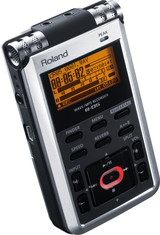 Roland has introduced the R-05, an affordable pocket recorder with advanced features.
The compact R-05 is easy to use, affordable, and packed with big-ticket features that raise the bar in its price class. Experience crystal-clear 24/96 capture, enhanced recording and editing features, and extended battery life (over 16 hours per charge). On stage, in rehearsal, at school, on the street, in the boardroom — whenever inspiration strikes, let the R-05 capture the moment with convenience and quality.
R-05 features
High-quality stereo recording (24-bit / 96kHz) with the built-in stereo mic or external input.
Records directly to SD card with extended battery life (over 30 hours continuous playback, over 16 hours continuous recording).
Strong, attractive metallic exterior.
Onboard editing functions; built-in reverb.
Music-practice features (change tempo without changing pitch, loop playback, etc.).
Auto record start, auto song split, auto level adjust.
Pre Record function (captures 2 seconds of audio that precedes pressing REC).
Use as a high-quality portable audio player (plays WAV and MP3 files).
Windscreen and tripod mount included.
The R-05 is scheduled to ship in May with a suggested retail price of $299 USD.