Roland has announced the Mobile UA, an ultra-compact USB audio interface that incorporates newly developed S1LKi sound technology.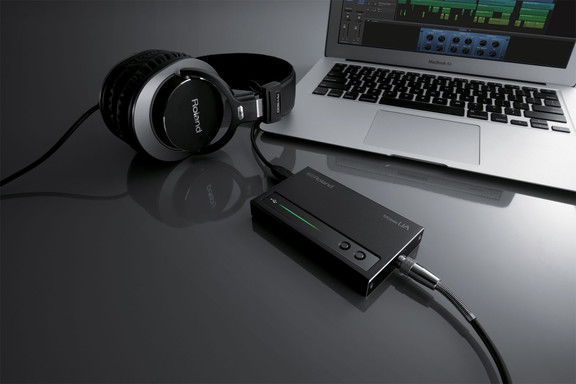 Featuring up to four channels of DSD and PCM audio playback in a small, bus-powered device, the Mobile UA delivers exceptional audio quality and low-latency operation for on-the-go music production, live performance, and general listening enjoyment.

Not much bigger than a deck of cards, the Mobile UA is the world's smallest USB audio interface that supports both DSD and ASIO. It offers native playback of DSD audio sampled at 2.8 MHz, and Roland's proprietary S1LKi audio engine also reproduces traditional PCM audio at rates of 44.1 kHz and above with extreme precision. Using the same type of 1-bit D/A converter used in DSD, the resulting conversion produces ultra-smooth, unclouded sound when compared to standard D/A conversion in PCM-based devices.
Mobile UA features
World's smallest USB audio interface that supports both ASIO and DSD.
High-quality audio playback from Roland's newly-developed S1LKi audio engine.
Native playback of 2.8 MHz DSD audio.
Ultra-compact four-channel audio output.
High-powered 158 MW + 158 MW (at 40 ohm load) headphone amp.
Supports ASIO and Core Audio; designed for low-latency operation.