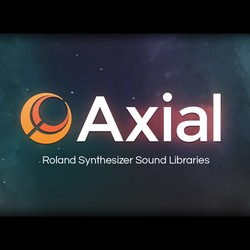 Roland has announced the debut of Axial, the official Roland tone library site where you can download new sounds for your Roland synthesizer that have been specially designed by top programmers.
From recreations of vintage analog classics to modern, cutting-edge tones that are perfect for the latest music styles and beyond, Axial is home to an ever-expanding selection of unique and exciting sounds for Roland instruments.

With the wide range of completely new sounds available on Axial, Roland synth owners can explore a growing universe of creative inspiration for live performing and music production. The sound downloads on Axial are grouped by musical genre and concept, making it easy to find the tones that will work best with a wide range of musical projects. Examples include GAIA Noise Freak Vol. 2, INTEGRA-7 Synth Legends Pure, JUPITER Synth Legends, and much more. The site also features demo videos and sound clips so composers can preview the sounds and examples of their uses.

One of the great thrills of using synthesizers is being able to create personalized and original tones. Roland's new Axial tone library site gives musicians the power to experiment freely and tweak the tones downloaded from the Axial site to suit personal tastes and styles, filling Roland synths with sounds that no one in the world has heard before.