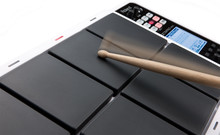 Roland has announced that the OCTAPAD SPD-30 digital percussion pad is now available in stores.
Featuring eight trigger pads, built-in sounds, multi-effects, and external trigger inputs, the OCTAPAD SPD-30 is the perfect portable electronic percussion instrument for any playing application.

Using the latest trigger technology from Roland's industry-leading V-Drums®, the pads on the OCTAPAD SPD-30 feature an extremely natural and responsive playing feel. The eight separate trigger surfaces provide superior dynamic response, trigger consistency over a pad's entire surface, and the elimination of crosstalk.
OCTAPAD SPD-30 features
Includes new percussion sounds from around the world, plus 30 types of multi-effects.
The latest pad-sensing technology developed for V-Drums® provides even and accurate pad triggering with excellent isolation between pads.
Four dual-trigger inputs, plus hi-hat controller for adding pads to create a mini kit, or for connecting triggers from acoustic drums.
Phrase Loop function inspires your creativity; record your playing in real time and overdub up to three layers.
USB connectivity for MIDI and memory storage.
Large backlit LCD and pad indicator lights for easy operation in low-light conditions.
Rugged, road-worthy design.
The OCTAPAD SPD-30 is now shipping with an MSRP of $799 USD.
More information: Roland / OCTAPAD SPD-30