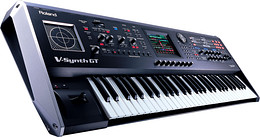 Roland has released a version 2.0 system update for the V-Synth GT, the Elastic Audio Synthesizer.
This free, user-installable upgrade adds significant new features to the V-Synth GT's already formidable sound palette and user interface, building on the powerful foundation of the Elastic Audio Synthesis engine, revolutionary AP-SYNTHESIS technology, COSM(R)-based analog modeling, and PCM wave sampling and playback.
New in V-Synth GT v2.0
New cutting-edge sounds.
22 new multi-effects and five new reverbs.
Added chromatic-scale pitch bender function.
Improved file import function (Patch/Tone/Wave/Sample).
Improved user interface.
More USB storage functionality.
More information: Roland