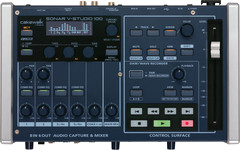 Roland has announced the release of new system software for its V-STUDIO 700 and V-STUDIO 100 computer recording products.
This revision adds support for Roland's newly developed VS Streaming driver technology, and also the ability to use the OCTA-CAPTURE USB 2.0 Audio Interface to expand the units' I/O capabilities.

VS Streaming represents a breakthrough in driver technology for digital audio workstations, providing ultra-low latency performance and unprecedented stability. With VS Streaming, V-STUDIO 700 and 100 users can enjoy rock-solid operation at latencies as low as one millisecond at 44.1kHz and 48kHz. The cross-platform VS Streaming driver is available for Windows 7, Windows Vista, and Windows XP operating systems, as well as Mac OS X.

With the new system software, V-STUDIO 700 and 100 users can now use the new OCTA-CAPTURE USB 2.0 Audio Interface to add an additional 10 inputs and eight outputs to their computer recording setups. When a V-STUDIO and an OCTA-CAPTURE are both connected to a computer via USB, the new VS Streaming driver treats them both as one integrated device, making it seamless for users to access their newly expanded I/O within their DAW software.

Designed to provide superb sound quality that will satisfy even the most demanding audio professionals, OCTA-CAPTURE features 10 inputs and 10 outputs, including eight premium-grade microphone preamps. These VS Preamps the same high-end mic preamps found in Roland's V-Mixer series of commercial digital mixing consoles, as well as the acclaimed V-STUDIO 700.

To take advantage of these new features, V-STUDIO 700 users should upgrade to System Version 1.3 or higher, while V-STUDIO 100 users should upgrade to System Version 1.5 or higher. In addition, users should install the latest V-Studio driver for their computer operating system.
The system updates and VS Streaming drivers are free downloads for all V-STUDIO 700 and 100 owners.
More information: Roland