Rossignol-Studio has launched Barbariz 3, a barrel organ instrument for Kontakt created from samples of two real barrel organs courtesy of ODFGRANDORGUE.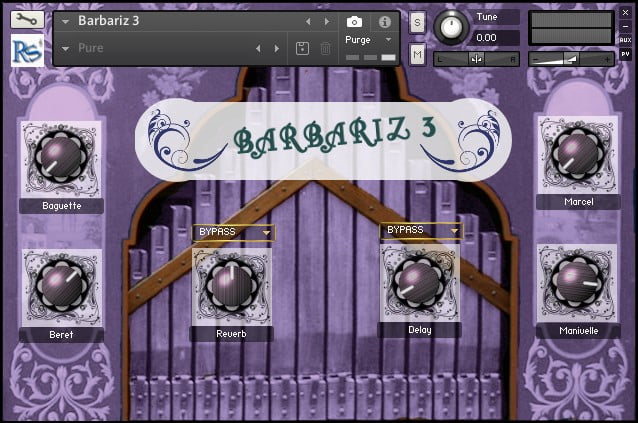 After Barbariz, Orgambou & Barbariz II Barbariz 3 is the new barrel organ created by http://www.rossignol-studio.fr/ for Native Instruments kontakt5.
This organ will delight all those who seek the typical sound of mechanical machines. The three different sounds can be used alone for realism or can be mixed at will to get closer to limonaires.
One more step has just been taken to the realism of these street instruments.

The interface consists of six buttons and two menus. Three volume buttons for the three sounds:
The extent of these Voices covers the keyboard part of the B-1 at E3. Finally a volume knob to crank the sound complements the interface of this Barbariz 3. This crank noise can be activated by pressing the green notes C-1 to C#-1 and deactivated by pressing the red notes D-1 to Eb-1.

Many presets of reverb and delay effects concocted by Serge Gora are available via both menus to mix with their volume knob.
Some snapshots are offered as an example.

The samples are 24bit 96KHz.
Barbariz 3 for Kontakt 5 (full version) is available for purchase for 20 EUR.
More information: Rossignol-Studio