Rossignol-Studio has announced the release of Philorgue, a new virtual instrument for Native Instruments Kontakt.
Philorgue is a vintage electronic organ with the sound of the 50's/60's. The samples are part of the work of Dominique Lacaud of ODFGRANDORGUE.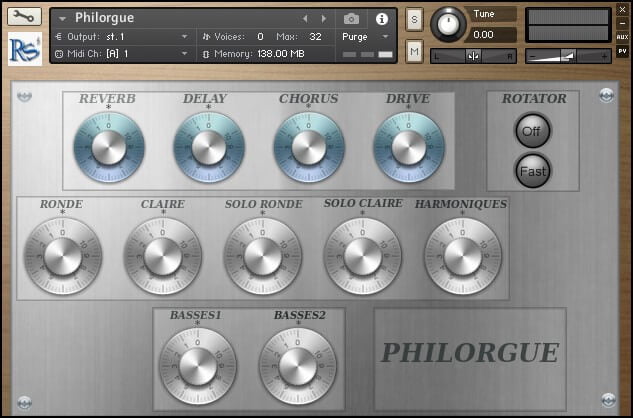 The keyboard is split into two areas:

The first is for solo and / or accompaniments: Blue Zone
Ronde C0 to C6, Claire C0 to C6, Solo Ronde C0 to C6, Claire Solo C0 to C6, Harmoniques C0 to C6

The second is dedicated to low: Green Zone
Basses1 C-1 C1, Basses2 C-1 C1

The interface consists of buttons volumes different sounds: Ronde, Claire, Solo Ronde, Solo Claire, Harmoniques and two Basses buttons.

Three volume buttons effects are added to the GUI: Reverb, Delay and drive.
An on/off button allows activate/bypass the Rotator (leslie simulation cabin) and a switch that toggles the slow speed fast as controllable via two keyswith in A-2 and Bb-2.
Philorgue for Kontakt 5 (full version) is available for purchase for 20 EUR.
More information: Rossignol-Studio