Rossum Electro-Music has introduced the Assimil8or, a powerful 8-channel module is designed to serve as the central engine of a Eurorack sampling system.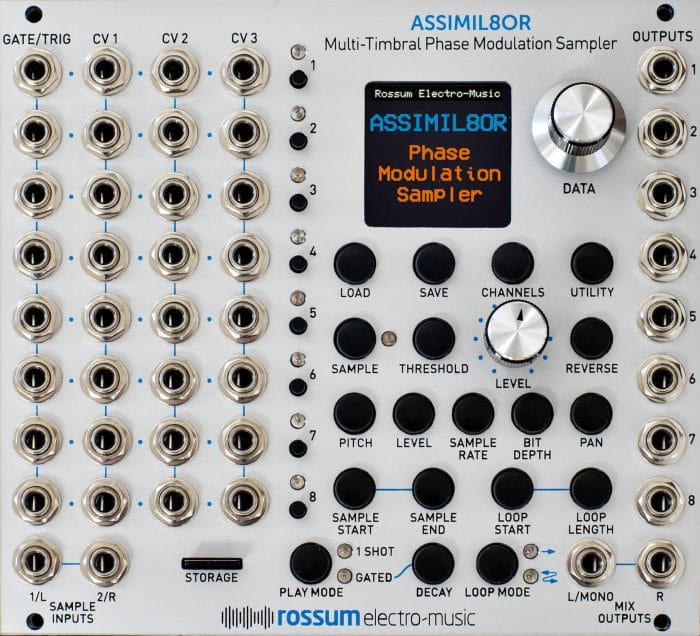 Rossum Electro-Music has chosen the occasion of SUPERBOOTH16 in Berlin, Germany to announce the development of their ASSIMIL8OR Multi-Timbral Phase Modulation Sampler module for Eurorack synthesizers.

Building on Dave Rossum's decades-long pioneering of affordable professional sampling technology, ASSIMIL8OR is designed to provide a powerful, flexible sampling engine for modular synthesis.

ASSIMIL8OR provides eight independent channels of sampling with sound quality that can range from extremely hi-fi to low fi, all with extensive real-time CV control.
Assimil8or will be available this Fall from Rossum Electro-Music dealers worldwide. Additional details will be available as release approaches.
Rossum Electro-Music has also announced it is now shipping Evolution, a variable character ladder filter Eurorack module.
At the core of the EVOLUTION Variable Character Ladder Filter is Dave Rossum's enhancement of the iconic Moog ladder filter from the original E-mu Systems 2100 LPF module (which, incidentally, Dave counts as his favorite sounding of all of the analog filters he designed).

For EVOLUTION, Dave has designed new capabilities that not only allow you to dial in all of the outstanding qualities of the original 2100, but combine to let you create the sonic characteristics of a wide variety of other filter types.
Evolution is available for purchase from Rossum Electr-Music dealers for $369 USD.
More information: Rossum Electro-Music