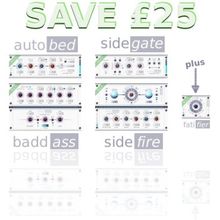 Rough Diamond Productions has released the whiteLABEL MK I plugin pack, a collection of 5 effect plug-ins for Windows PC.
In celebration of a year having passed since the first whiteLABEL betas appeared on the net, we've got a Happy Birthday gift to share with you … and you … and you …

Yes indeed, the whiteLABEL MK I plugin pack is here.

4 smashing plugins for £30 – a 45% saving plus an exclusive free gift.
whiteLABEL MK I plugin pack includes
autoBED : Whenever the presenter is heard, the music fades into the background. As the music fades, its presence falls leaving focus for the presenter. When the presenter stops speaking, the music fades back in as its presence is restored. (£15)
sideGATE : When the sidechain is higher than the threshhold, the channel is audible, when lower, gated – just the thing for controlling a reverb according to the level of a snare drum, a synth according to a hi-hat, a bass according to a bass drum and so on. (£10)
baddASS : designed for added oooomph. From subtle re-inforcement to storming bottom end, a little bit of rough to mind-bleeding distortion, baddASS's drive, crush and EQ sections give you plenty of scope for re-inventing your kick-drum. (£10)
sideFIRE(full) : A stereo enhancer / distorter employing delay, compression, & EQ to manipulate, the stereo field. Also makes false stereo from mono inputs and can code & decode mid/side recordings. From subtle & shiney to wide & wild. (£20)
fatiFIER : At the quiet end, use it for flanger and chorus style effects. On a moderate setting it can be used to make things fatter by slight de-tuning, and at the extreme end of things, fatiFIER can turn a human voice into a fully-fledged MPM* :: EXCLUSIVE TO THE whiteLABEL PLUGIN PACK
The whiteLABEL MK I plugin pack is availabe for £30 GBP. Demo versions are available for download.
Visit Rough Diamond Productions for more information.