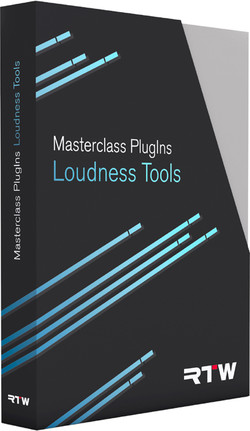 RTW hsa announced the release of Loudness Tools, the first in a series of RTW Masterclass PlugIns, an entirely new range of products that provides RTW meters as standard-format PlugIns for Windows and Mac.
By transferring the analyzer tools to a pure software that requires no additional hardware, RTW will also make them available to musicians, radio producers, and audio/video engineers who need to meet the resulting implementation specifications required by TV and radio broadcasters. As a means for quality control, the RTW Loudness Tools with their precisely working and easy-to-read instruments ensure compliance with custom specifications. Thanks to intuitive operation, they are equally suitable for users with or without background knowledge.

RTW Loudness Tools is a Masterclass PlugIn featuring Metering and Loudness display for mono, stereo, multichannel, and surround applications (8 channels max.) and all standard sampling rates up to 96 kHz. It supports all widely used PPM and TruePeak measurements and scales.

With this the RTW Loudness Tools Masterclass PlugIn provides the functionality of the award-winning TM7 and TM9 basic PPM instruments in combination with its loudness licence and offers the same degree of functionality and clarity as the hardware models. The instruments can be freely arranged and scaled. Various function parameters offer extra flexibility.
Six selectable window frames (landscape and portrait view) permit the tailorable positioning of the provided instruments. Multiple instances may be used. You can store all setups and layouts as presets in your DAW.
The RTW Loudness Tools are available for download at the RTW members area. Activation codes are available from RTW's sales partners. Requires iLok.
More information: RTW / Loudness Tools