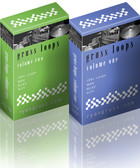 Ryan Gruss has released back issues of Gruss Loops Volume 1 and 2, two collections of drum loops featuring a wide range of grooves and tempos.
Well, I've decided to open the vault. I'm digging deep into the archives (all the way back to June, 2009) to give everyone a chance to download the previous loop packs that were first offered to my subscribers.

At $12.95, they're still the best loop deal on the internets AND if you decide to sign up and become a member of ryangruss.com, you'll receive a coupon code for $3 off each previous volume. You see, being a member does have its privileges.
Gruss Loops Vol 1 and 2 include over 100 high quality 24-bit stereo 48 kHz files each, provided in WAV, REX2, & AIFF formats (100% Royalty Free).
Visit Ryan Gruss' website for more information.