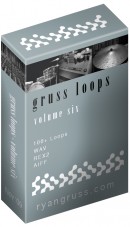 Ryan Gruss has released Gruss Loops Volume VI, a collection of 100+ drum loops in AIFF, WAV and REX2 formats.
I finally snapped out of my post-Halloween, candy-induced coma and created mp3 previews for my latest subscriber-only loop release, Volume VI. With the widest range of styles and sounds I've yet to produce in a single loop pack, I consider this my pièce de résistance (until I release the next one).
Gruss Loops Volume VI features
122_JB – After receiving several requests from my subscribers for more straight-up, James Brown-type funk grooves, I set off to record a series of loops inspired by the Godfather of Soul himself. With the snare cranked up high and a very dry and natural mix, this set of loops will help you to get up and do your thing. You know. Movin' it and doin' it. Can I count it off??
99_FrameDrum – Who said the frame drum was just for traditional, South Indian music? This set of loops takes some of the Carnatic rhythmic phrasings this instrument is known for and melds it with a few Westernized 4/4 grooves that will keep your parents clapping on 1 and 3.
100_Sugarfoot – This set of grooves is my hat tip to the one and only Jonathan "Sugarfoot" Moffett. Funky pop drumming with some extra sweetness on the kick, these grooves will make you want to adopt a chimp and name him Bubbles.
285_Bebop – In an effort to fill the 260-300 BPM gap in my catalogue, these uptempo jazz loops take some of the straight ahead stylings of Philly Joe Jones and Max Roach and mixes them up with some more of the contemporary and polyrhythmic phrasings of Bill Stewart and Peter Erskine.
77_BigReverb – Holy Reverb, Batman! It's almost like the drummer from My Morning Jacket and John Bonham had a baby. And that baby started recording drum loops with ridiculous amounts of reverb for its website.
93_Sixteenth – This recording session originally started off as an ode to Michael McDonald's 1982 Lite-FM hit, I Keep Forgettin' and ended up as something quite different. With a steady 16th note pulse on the hi-hat and some extra "sub" on the kick, these grooves are equally Gangsta as they are Yacht Rock.
Gruss Loops Volume VI is now available to download for subscribers. Subscriptions are available for $9.95 USD per month, or $99.95 USD per year. Previous volumes are available to purchase for $12.95 USD each.
Visit Ryan Gruss' website for more information.