Plugin Boutique has launched a Valentine's Day sale on the RYM2612 Iconic FM Synthesizer, offering a 50% discount on the emulation of the YM2612 FM soundchip by Inphonik.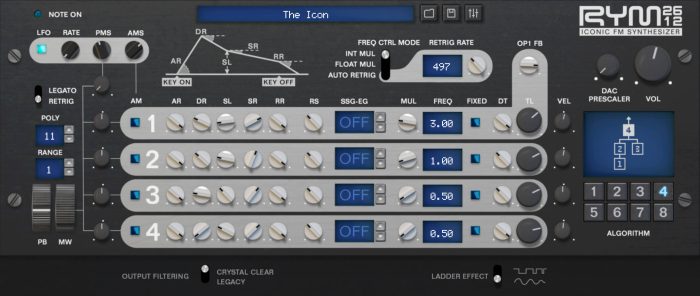 It's an emulation of the Yamaha YM2612 sound chip, best known for being the vibrant voice of the Sega Genesis/Megadrive videogame console.

More than a simple sound-alike, the emulation is cycle-accurate to the original chip, that allows reproducing every unique possibility of the synth. On top of this, the amp circuitry of the console has been reproduced too, in order to obtain the same grain you'd get if you plugged the real hardware into your DAW.
RYM2612 features
Cycle-accurate emulation of the YM2612 FM soundchip.
Genuinely reproduces the unique and characteristic sound of its hardware counterpart (digital saturation, huge feedback amount, natural distortion, …).
Audio input for adding 8-bit PCM sweetness to any signal.
Low CPU usage.
Switchable output filtering and ladder effect.
A couple of limitations from the soundchip have been taken away: up to 16 voices of polyphony, dedicated PCM channel (you can of course stick to 6 simultaneous voices if you want to experience the real thing).
100+ various, sorted, evocative patches to start with.
The plugin is on sale for only £19.95 GBP / $24 USD until February 17th, 2020. It comes in VST/VST3, AU and AAX formats for Windows and Mac.
More information: Inphonik