Audified has announced the release of its brand new RZ062 Equalizer, a plugin bundle based around authentic namesake models of the vintage Klangfilm RZ062a and RZ062b valve EQ modules.
Made by German giant Siemens for installation in its film sound-centric Universal Mixing and Control Console (Klangfilm System), these plugins deliver pleasant vintage warmth and amazing presence to your vocals, instruments and entire mixes.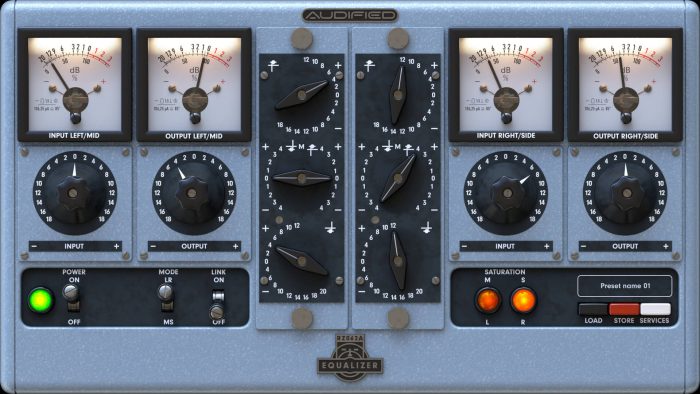 To create these amazing plug-ins we had to emulate more than 200 circuit components. That includes 3 triodes, input and output transformers. It is not just any circuit but someone did a great job focusing on the details. Each part has its own thoughtful meaning. For RZ062 we used so called white box modeling. We described the whole circuit with complex math equations based on the circuit analysis. Eventually, the overall model was fine tuned by measurements and component-values fitting algorithm. to find as the closest model to the real device as possible.

RZ062's place is everywhere where extra bass, treble or presence is needed while improving the overall colour, smoothness, and tightness of the sonic material. RZ062 is incredible on vocals, bass or acoustic instruments.

But due to the advanced controls – the independent left/right channels tweaking or mid/side operation – the main point of the RZ062 EQs is the top quality mastering purpose.
RZ062 Equalizer features
2 EQ plug-ins in a bundle.
Precise valve circuit models.
Left/Right and Mid/Side Controls and transformation Calibration.
Input and output level control.
Auto output parameter (link).
Smoothest EQ sound available.
The RZ062 Equalizer (VST/AU/AAX) is on sale at Plugin Boutique for the intro price of $149 USD until September 10th, 2017 (regular $199 USD).
More information: Audified / RZ062 Equalizer