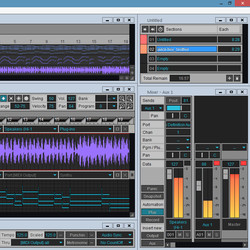 Sagan Technology has updated its Metro music creation tool for Windows and Mac.
Metro is a fast-operating, easy-to-learn high-powered sequencer for the design of professional audio projects. It stands alone as a complete and integrated MIDI, audio and video production system.

Metro is engineered with two primary design goals: stability and performance.
Changes in Metro v7.2
Professionally redesigned UI designed for large screen monitors, via the 'SharpGrey' color scheme, includes custom scroll bars.
Color scheme dependent transport time line feature.
Color scheme dependent track colors.
Color scheme dependent enhanced Mixer Aux feature.
Better support for 64 bit float and 8 bit audio formats.
System for users to create color schemes directly from a .msty file, .jpgs and .pngs. Newly designed color schemes submitted to us and accepted for general use will be rewarded. For more info, email "info at sagantech.biz".
View mixer channel inputs by simply hovering over mixer channel.
Support for VST's effString2Parameter. This allows users to enter parameters textually for (supporting) plug-ins with no UI.
Better keyboard support for VST plug-ins.
Last color scheme selection is automatically remembered.
Highlight color saved with color scheme.
Non-rotary entry of pan knobs (set as default).
Help tags for Mixer window.
MP3 preferences for writing ID3 tags in MP3 preferences tab. Tag fields include current year, artist, album and option for use song name as title.
'Copy Markers as Chapter Text' in Markers window option menu now works under Windows OS.
Two new graphic editor quantize modes. "Absolute With Selection" works like absolute but also quantizes the selection. "To Vertical Grids" quantizes the selection to between the currently visible vertical grids only and is thus affected by the zoom level. Selections can also be quantized (in other modes) by clicking in a pane of the graphic editor and while holding the mouse move into the track title bar.
More vertical zoom levels allowed.
New continuous data "line" tool in Sharpgrey color scheme only. The line tool is available in other schemes by selecting pencil and holding the control key.
Dragging simple MIDI files from plug-ins no longer stops playback.
Remote control allows remapping of pitch bend events to an entirely different range. Set out range to -3276 to 3276 for NI Monark to bend in a 2 step range.
Better OS X Mavericks and Windows 8 support.
Column header selection in the tracks window by right clicking the column header.
The limit in Metro LX has been increased to support 28 effect plug-ins or 7 synthesizer plug-ins.
Many fixes, check the release notes for details.
Metro for Windows and Mac is available to purchase for $299.99 USD ($99.99 USD for LX / $34.99 USD for SE). The upgrade price for any version of Metro 6 is $34.99 USD. This update is free for Metro 7 users.
More information: Sagan Technology