Saltline has released version 1.1.1 of Swierk, a free subtractive synthesizer for Windows, and version 1.0.3 of Brzoza, a free FM synthesizer plug-in.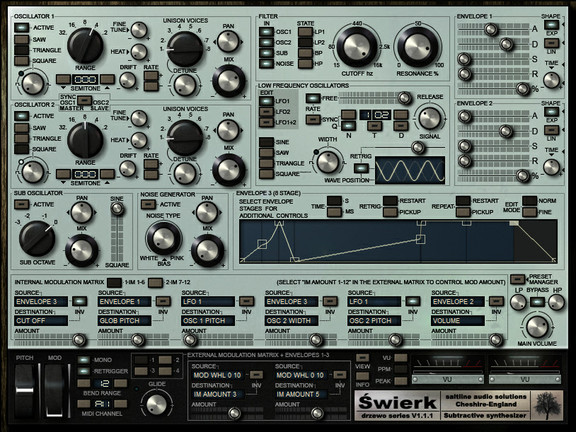 Swierk is a relatively straight forward subtractive synthesizer with familiar sound generators, controls, routing, look and feel. Swierk comprises of 4 sound generators, 2 oscillators with 3 different selectable waveforms, a sub oscillator and a noise generator.

Brzoza is a two operator mono FM synthesizer. Each operator has three, fixed route, modulators. modulation amount is controlled by the modulator's ADSR envelopes. A wide range of sounds and textures can be created from tight, soaring leads and deep basses to "bell" like sounds and evolving textures.
Changes in Swierk v1.1.1
Minor graphical changes.
Sub waveform mix added.
Double click to reset on centered controls.
Envelope 1 + 2 response curves and time adjust added.
Envelopes 1-3 added to external matrix.
Unison voices increased to 8.
Tune drift and heat added to oscillators 1+2.
Output LP/HP filter bypass.
Changes in Brzoza v1.0.3
Double click to reset on centered controls.
Minor graphical changes.
Linear and exponential envelope shapes.
Modulator cascade sync.
Both plug-ins are available to download for Windows (VST) at no charge.
More information: Saltline