Time+Space has announced the release of Sam Spacey Epica Bass, a new analog bass synthesizer instrument for Native Instruments Kontakt and Kontakt Player.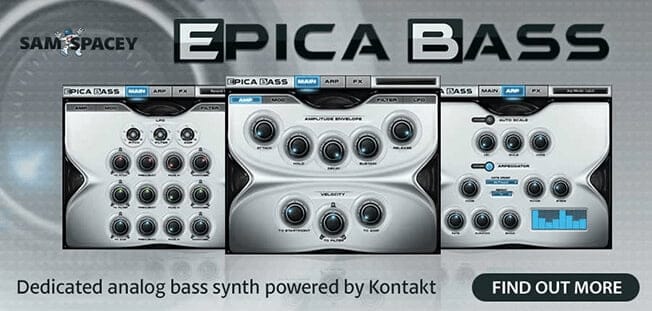 Sam Spacey the producer behind the multi award-winning Epica, presents Epica Bass – a dedicated analog bass synth library obsessively sampled from Sam´s extensive and personal collection of all-star classic analog synths and modulars.

From the vintage Neve preamp and the UBK Fatso hardware to the boutique guitar distortion pedals and Kush Audio Elektra EQ's, the gear involved in the making of this Kontakt instrument ensures that Epica Bass sits perfectly in the mix without the need to pile on plugins.

Comprising 430 epic instruments built from 26,657 24bit mono samples, the majority of presets have every single note sampled with up to 6 round robins per note ensuring that the full character of these classic synthesisers has been captured as faithfully as possible.
Epica Bass features
Analog Bass Library for Kontakt 5 or Kontakt Player (included).
430 Epic instruments built from 26,657 24bit mono samples (7Gb)
100% Analog Synthesisers used, no plugins or virtual synths.
Arp Odyssey mk3 (orig), Pro 1, CS-30, SEM, Oakley Modular, Future Retro, Matrix 6r, SH-1000 and Telemark modular.
Boutique hardware recording chain: UBK Fatso, Kush Elektra, Eventide H8000, DBX160XT, Neve Pre amp and several rare guitar pedals.
Multi Page Extensive Synthesis with dedicated functions per page to give you full editing power in a non-cluttered Interface.
Creatively inspiring yet extremely powerful 6 page interface gives you full control over your sound without slowing you down.
Multiple Round Robins utilised to eliminate machine gun effect as well as velocity sample groups.
Dedicated FX rack with full control utilising Native Instruments latest emulations of 1176 Compressor, SSL EQ along with Flanger, Chorus, Bit Crusher, Delay and Convolution Reverb (new convolutions).
Fully fledged Arpeggiator, FX Rack, 3 x LFO´s, Amp Env, Filter Env (6 Filters), Pitch Env, sample start modulation destinations, Pitch Drift, Portmento, Velocity modulations and more.
Unique sample start modulation gives control over the real analog filter source (6 analog modelled filters also included for use).
Epica Bass is available for purchase as a download exclusively from Time+Space for the introductory price of £79 GBP until December 17th, 2015 (regular £89 GBP).
More information: Time+Space / Epica Bass