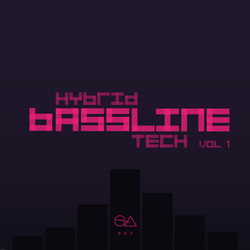 Sample Anatomy has announced the release of Hybrid Bassline Tech Vol 1, a collection of 100 bassline loops and MIDI files.
Bass lines are arguably one of the hardest elements of a track to produce. Its the seat of the song. Its what people are going to groove to. We've concocted 100 of the freshest, biggest and baddest tech baselines to get your House, Minimal, Techno or any other genre with a 4 on the 4 groove, a serious head start.

Bassline Tech is full of diversity when it comes to style. You'll find a plethora of earth shaking subs, distorted mids, synth heavy top end, minimal stylized, modulated expressions, enveloped, full on, resonance heavy, and funky baselines in this pack. We've left nothing to be desired with this one. For the sake of artistic integrity, most loops were left dry of effects (No Delays or Reverbs). All loops were however treated with EQ and COMPRESSION to ensure full compatibility with your project. Just drag drop and go!

Love the groove but not 100% happy with the sound we've created? No problem. Fire up one of the adjoining midi files and plug in your own sound. For every bassline we created we've supplied you with the MIDI file that created the bassline. This will ensure you get exactly what you want from your groove. Having the MIDI file is also a great way to create variation in your groove if you choose to.

We've supplied you with 4 folders. Each folder contains 50 loops cut at 123 and the other 50 cut at 125 for both the MIDI and the AUDIO. Standard faire for tech productions. All Audio and Midi files have been key marked for your convenience.
The sample pack is available to purchase for $13.95 USD.
More information: Sample Anatomy / Hybrid Bassline Tech Vol 1