Sample Magic has launched Bloq, a virtual instrument featuring over 2.6GB of sample data from some of the most iconic and revered synthesizers and drum machines of all time.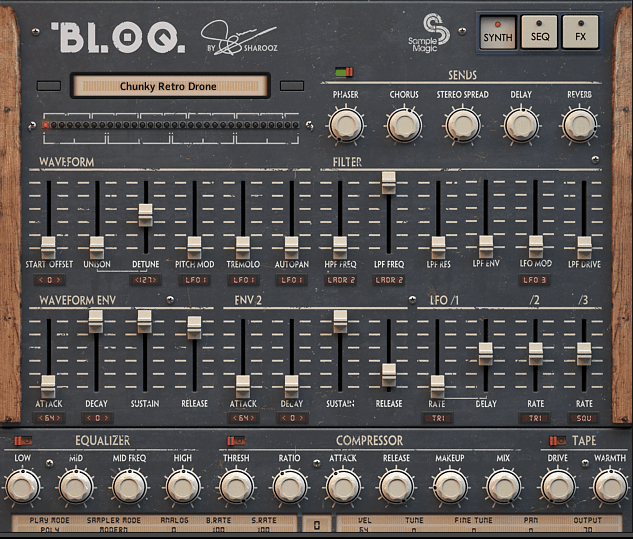 Over a year in the making, Bloq is the result of months of carefully crafted sound design and meticulous sampling by Sample Magic co-founder Sharooz and extensive personal archive of vintage instruments.

Drawing from an enviable line-up of 17 synthesisers and 13 drum machines including the Roland TR-808, TR-909, TB-303, Jupiter 8, Jupiter 6, SH-101, Arp Odyssey, Sequential Circuits Pro-One, Prophet 5, Clavia Nord Lead 4 and Akai MPC 60 to name but a few, every key of every patch was painstakingly sampled through a variety of high quality preamps at 24-bit resolution via the Prism Orpheus soundcard.

The samples were further processed with the SSL G-series and DBX 160 compressors, Empirical Labs Distressor, Focusrite ISA 430 and Neve 1073 channel strip for unrivalled sound quality.
Bloq features
Over 7300 unique samples at 24-bit resolution, with every key, velocity, pitch, decay and tone setting of every patch faithfully represented.
Includes customised Rack for Ableton Live 9 and Logic EXS-24 / Ultrabeat version with extensive treatments of every patch as presented in the Kontakt version. With numerous smart macro assignments including filter cutoff, reverb time, delay time, release time and various other commonly used creative control assignments, Bloq pushes compatibility and performance to the limit.
Drawing on Kontakt's extensive scripting engine, features an expressive 32 step sequencer, 3-band EQ, chord memory functionality, 8 track drum pattern composer with shuffle and randomise controls, powerful FX engine including reverb, delay, chorus, phaser, 3 tempo-syncable LFOs, tremolo, auto-pan, pitch mod, unison voice stacking, multiple hi-pass and low-pass filter types, tape drive, vintage modelled compression and the ability to instantly decimate and bitcrush sounds to 12-bit quality.
Split into two modules, Bloq Drum and Bloq Synth, Bloq Drum allows each pad to be individually treated with transient shaping, ADSR, HPF and LPF filters, FX sends, tuning and the ability to assign each hit to up to 16 separate outputs.
97+ synth patches, 35 drum kits and 140 inbuilt unique drum patterns by award-winning sound designer, producer and Sample Magic co-founder Sharooz showcasing the best sounds from each kit.
Lossless audio compression makes switching between patches a breeze, regardless of processing power or RAM.
Vintage sampler mode allows for instant emulation of the iconic EMU SP1200 12-bit sampling drum machine.
Customised script programmed by Matt Fudge, creator of the award-winning Transistor Revolution series.
Bloq is available for purchase for £44.90 GBP.
More information: Sample Magic