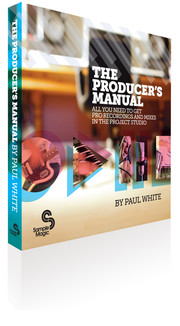 Sample Magic has announced the release of The Producer's Manual, the definitive guide to recording and mixing in the project studio by Sound On Sound editor Paul White.
Featuring 350+ full-colour pages packed with pro techniques, practical photos, detailed illustrations and hands-on walkthroughs, The Producer's Manual brings together everything you need to take a mix from initial recording to final master
The Producer's Manual features
All you need to get great recordings: from vocals and drums to guitars, bands and acoustic instruments. Choose the right mic, review classic recording techniques, learn how to tame spill and get the most from performers.
In-depth 101-style guides to dynamics and compression, reverb, pitch correction, studio acoustics, monitoring and more.
Taking your mix to the next level: explore the techniques and the pitfalls. Essential jargon-free theory backed by practical insights on everything from EQ through mixdown approaches to classic hardware.
How to master your own material when the budget doesn't stretch to professional mastering.
The Producer's Manual is supplemented by tricks and insights gleaned from over 20 years in the industry and interviews with some of the industry's biggest producers, including Tony Visconti, Alan Parsons and many more.
The Producer's Manual is available to purchase from Sample Magic for £29.95 GBP.
More information: Sample Magic