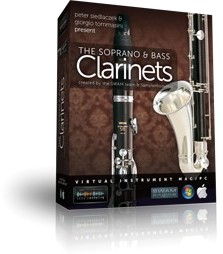 Samplemodeling has released its Soprano & Bass Clarinets sound library by by Stefano Lucato and Emanuele Parravicini.
Realistic, expressive, real time playable Virtual Clarinets? Yes, like all previous Samplemodeling Instruments, but exploiting a different technology on a proprietary platform, the SWAM Engine. The acronym stands for Synchronous Wavelength Acoustic Modeling, developed by Stefano Lucato.

The Clarinets use samples as a base material, chromatically performed by a professional player over a very wide dynamic range, and recorded with state-of-the-art technology. The resulting timbre is therefore that of the real instrument. But the analogy with a sample based library ends here. The underlying, proprietary technology allows continuous interpolation among different vectors like time, dynamics, pitch and formants. Advanced real time processing techniques yield realistic legato/portamento, vibrato, overblow, ornamentations & trills with phase continuity, constant-formant pitchbends, subharmonics, growl and flutter tongue to be performed in real time.
The sound library is available to purchase for 149 EUR +VAT if applicable. All Samplemodeling customers are entitled to a 10% discount until November 30th, 2012.
More information: Samplemodeling