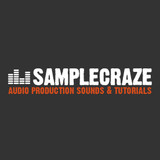 Samplecraze has announced the availability of 1-2-1 Tutorials, personal tuition courses by Eddie Bazil.
Wouldn't it be great to have an expert looking over your shoulder and offering advice on your sound design, composition and mixing skills? Many musicians reach a point where they don't know how to solve a particular problem, or how best to move forward, and at times like these having an experienced tutor on hand can be invaluable.

Eddie Bazil of Samplecraze has written music for film and theatre productions, produced artists in a variety of different musical genres and remixes for artists such as Buster Rhymes, has a background in sound design for companies such as Emu, Propellerheads and Native Instruments, his sound libraries and custom samples feature on many acclaimed albums, and his video tutorials have already helped many musicians around the world.

Now, via the wonders of the Internet, he's offering the benefits of this expertise on a 1-to-1 basis to individual students in the comfort of their own studios.
More information: Samplecraze