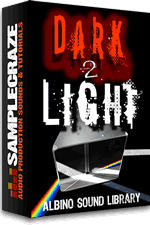 Samplecraze has announced the release of Dark To Light, a sound library for the Albino synthesizer plug-in by Rob Papen.
This is a first for Samplecraze in terms of providing exclusive sound libraries directly to users. I have known Rob Papen since the Emu days, and always felt that a sound designer of his scope and experience would be a perfect candidate for designing and developing vstis that would in turn help other sound designers to get the best out of the tools, and thus design innovative sound sets.

Sure enough, Albino is without a doubt a wonderful vsti to use, with a unique feature set and tone colours, so I decided to dive into a project to create a varied yet extremely coloured sound library for use in any compositional project. Emphasis has been placed on providing a 'different' sound palette to the norm and to exhaust some of Albino's potent tools.
Dark To Light features
450 presets exploring synth history all the way from 50's sci-fi weirdness, through classic phat analogue timbres and rich layered ensembles, drum machines and sound effects, to cutting edge digital and FM quirkiness. From darkest black to purest white, nothing offers a wider spectrum of synth colours.
Ideal for genres such as ambient, dance, electronica, glitch, IDM, space music, and trance, as well as many others. It explores the entire range from cone-bending sub-basses to whispering digital textures, from dark and dirty to squeaky clean. Sometimes spiky and sometimes silky smooth, this is a library filled with inspiration for your own musical creations.
Sound Types: 48 Basses, 71 Drums, 61 Effects, 63 Keys, 41 Layers, 32 Pads, 78 Sequences, and 61 Synths.
Dark To Light is available to purchase for $29.99 USD.
More information: Samplecraze