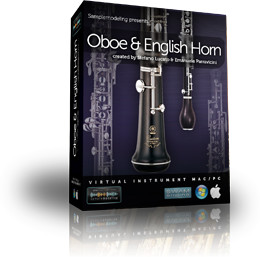 Samplemodeling has announced the release of Oboe & English Horn, a SWAM engine powered virtual instrument created by Stefano Lucato and Emanuele Parravicini, in collaboration with Giorgio Tommasini & Peter Siedlaczek.
Oboe & English Horn utilizes Samplemodeling's proprietary SWAM engine (Synchronous Wavelength Acoustic Modeling) developed by Stefano Lucato & Emanuele Parravicini.

Oboe & English Horn use samples as base material, chromatically performed by a professional player over a very wide dynamic range, and recorded with state-of-the-art technology. The resulting timbre is therefore that of the real instrument. But the analogy with a sample based library ends here. The underlying, proprietary technology allows continuous interpolation among different vectors like time, dynamics, pitch and formants. Advanced real time processing techniques yield realistic legato, vibrato, squeak, overblow, ornamentations & trills, pitchbends, subharmonics, growl and flutter tongue to be performed in real time.
The instrument is available for Windows and Mac (VST/AU/AAX), priced at 149 EUR plus VAT. Samplemodeling customers are entitled to a 10% discount until November 30th, 2013.
More information: Samplemodeling / Oboe & English Horn