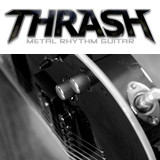 SampleOddity has released Thrash: Metal Rhyhtm Guitar, a metal guitar sample library for Kontakt.
Thrash is a multisampled guitar library for Kontakt that focuses on sounds and techniques associated with thrash metal and black metal. A six-string Schecter Blackjack C-1 guitar is presented with distortion and processing already applied, in E and drop-D tuning. An extensive variety of round-robin variations and effects gives you the tools to create intense heavy metal.
Thrash: Metal Rhyhtm Guitar features
561MB of samples / 307MB .rar download.
Many atriculations and effects

Powerchords (4xRR)

sustained intervals of min./maj. 3rd, 4th, tritone, 5th, and minor 6th

Palm-muted staccatos

powerchord palm-mutes (8xRR)
single string palm-mutes (8xRR)
two extra layers of palm-mutes for open D and E strings

Single note sustains (4xRR)
Crazy vibrato
Tremolo (powerchord min. 3rd and 5th, and single string)
Lots of effects: note-offs, slides, scrapes, string noises, and harmonics
Metallitextures: five textural pad instruments

.wav files are open for you to browse/alter/use as sound effects.
Kontakt 2.2.4 / 3.5 full version required.
Thrash: Metal Rhyhtm Guitar is available to purchase for $49 USD.
More information: SampleOddity