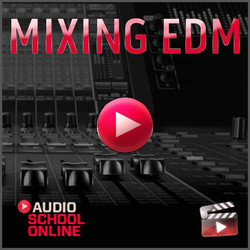 Samplerbanks has introduced Mixing EDM, a masterclass from music industry veteran Ken Lewis of Audio School Online.
Ken Lewis takes you through an entire EDM mix, start to finish, 106 tracks, straight through with no interruptions. Ken shows you every plugin, every fader move and pan adjustment, all of the mix bus processing, and explains in depth what he is doing and why he is doing it.

Ken focuses on explaining side chain compression usage as well as how to string multiple effects together to create new textures and spaces. This lesson is jam packed with information that's easy to follow along with and you can try out your own EDM mixing chops on the full session provided. The audio is also stemmed out for use with any DAW.

This song titled "R U Happy" is written and produced by SnareFace Music and Tarek Elian, from Beirut, Lebanon (bet you did not expect that). Check out more of their music at www.facebook.com/snareface and www.facebook.com/TarekElian.

The full Pro Tools session is included with the download as well as consolidated WAVE files for any DAW systems.
Mixing EDM features
4.9 GB GB content (video tutorial + sounds).
1 hour 40 minutes video.
Includes Pro Tools Session + audio stems for any DAW.
The video course is available to purchase for £14.95 GBP.
More information: Samplerbanks