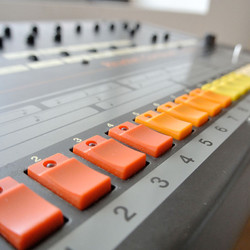 Samples From Mars has announced the release of the TR 808 Samples Library, a collection of 493 samples from the Roland TR-808 drum machine, recorded through an SSL 4000 G+ console.
We are in love with the Roland TR-808 and all of the genres it has created and inspired (Electro -> Hip Hop – > Boogie -> House -> Techno -> Trap -> Pop). And although the (world's most popular?) drum machine has been sampled many times, as collectors of 808 samples for over 10 years, we believe we have succeeded in creating a truly unique 808 sample pack.

If you are like us and already own 10+ different 808 libraries, we are confident you will still find yourself reaching for this 808 kit again and again, because we've used different gear and artistic judgement to create the sounds in our own style.
TR 808 Samples Library features
Over 450 professional quality, punchy and clear TR 808 samples.
Recorded with classic, vintage analog gear and re-pitched on tape.
Instant Download.
The sample pack costs $18 USD.
More information: Samples From Mars / TR 808 Samples Library