Samples From Mars has announced an updated version of the 909 From Mars sample library, a collection of drum samples from the Roland TR-909 Rhythm Composer.
The new 909 From Mars includes an entirely new batch of samples (as well as the old ones) and new formatting.
To create the 909 From Mars, we recorded two different TR-909s (every unit sounds different!). First, we captured clean versions of every drum hit, straight through an API preamp into Apogee Symphony conversion. When neccesary, each drum voice was captured in extremely detailed and methodical groups – the Bass drum with varying decay, tune, and attack – the snare, with varying tune, tone and snappy amounts, the Toms & Cymbals at every tuning available, and finally the hi hats at different decays.

Next, we recorded processed variations of these same drum groups, coloring everything through hardware saturators, tube EQs, tube DIs, transient designing, MPC, SP1200, and a mastering reel to reel 1/4″ tape machine. The Bass Drum, for instance, contains Clean, Tube, Tape, and Colored versions of the same exact groups.

Finally, we took our second 909 and ran it through an SSL 4000, going crazy with EQ, filtering, compression and gating, recording the results to tape. Once on tape, we played back the tape at different speeds to achieve new analog tunings of the 909 previously never heard. The idea of this second batch of samples is to provide a really diverse, somewhat random "Various" folder for every drum voice.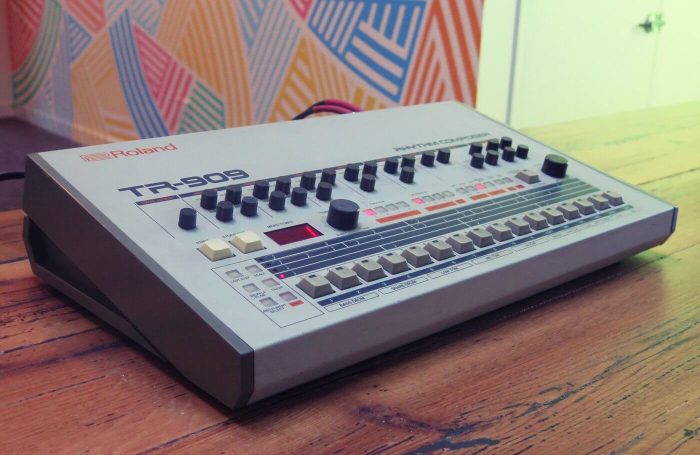 909 From Mars features
1300+ 24bit 909 WAV Files.
(6) 16x hit kits for instant use.
High organized individual hit folders for deeper digging.
Clean versions of all drum voices, extensively multi-sampled.
Huge selection of processed, colored and re-pitched samples for all drum voices.
100% hardware processing – no plugins here.
Recorded to tape, through MPC60, SP1200, analog saturators, tubes and more.
Fully mapped Ableton Drum Rack with Macros that control actual 909 decay, tuning and other parameters (via sample selection).
50 Kontakt, Logic, Reason & Structure instruments containing individual hits & pre-made kits.
Maschine, Battery & MPC: 6 pre-made kits.
194 MB unzipped.
909 From Mars is on sale for $19.50 USD for a limited time only (regular $39 USD).
More information: Samples From Mars / 909 From Mars