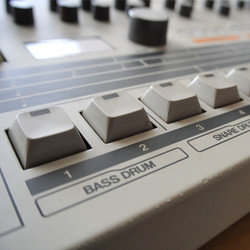 Samples From Mars has launched its TR 909 Samples Library, a collection of raw TR 909 samples reecorded to tape.
If you're after raw, banging 909 samples, look no further. To finish off our Drum Machine Samples Collection we've taken a Roland TR 909 Drum Machine and recorded it through a legendary SSL 4000 G+ analog console to a mastering reel to reel 1/4″ tape machine.

After using various high end processing (almost exclusively analog), we edited every hit by hand, and arranged the best ones into corresponding folders, named simply and sorted chromatically for maximum ease of use.
TR 909 Samples Library features
332 24bit, royalty free TR 909 samples recorded through an SSL Console to tape.
Every hit has been re-pitched extensively & arranged by tuning.
72 deep kick drums, ranging from clean to dirty, low to hi.
61 punchy & saturated snares.
199 additional Claps, Hi Hats, Toms, Rims, & more.
The sample pack costs $18 USD.
More information: Samples From Mars / TR 909 Samples Library