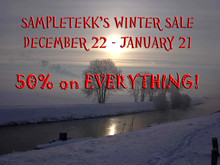 Sampletekk has announced a Winter Sale, offering 50% discount on its entire collection of sample libraries for a limited time.
Merry Christmas, a bit in advance, from a VERY snowy and VERY cold Sweden!

Between December 22 and January 21 we are having our annual Winter Sale where you get a 50% discount on everything in the store. So check out the pianos, wurlitzers, Rhodes, recorders, brass and other goodies at Sampletekk.
More information: Sampletekk