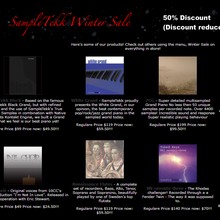 Sampletekk has announced a Winter Sale, offering 50% off its entire sample library catalog.
Time again for our annual Winter Sale where you can grab multisampled instruments for you Halion, Kontakt, EXS24, Gigastudio sampler. Choose between grand pianos, uprights, flutes, organs, brass, harpsichords, choirs and other instruments.
Sampletekk Winter Sale
SampleTekk Black – Based on the famous SampleTekk Black Grand, but with refined samples, and the use of SampleTekk's True Resonance Samples in combination with Native Instruments Kontakt Engine, we built a Grand Piano that we feel is our best piano yet! Regular Price $99 Price now: $49.50.
White Grand – SampleTekk proudly presents the White Grand, in our opinion, the best contemporary pop/rock/jazz grand piano in the sampled world today. Regular Price $119 Price now: $59.50.
7CG – Super detailed multisampled Grand Piano No less then 93 unique samples per recorded note. Over 4400 samples! Incredible sound and response Super realistic playing behaviour. Regular Price $199 Price now: $99.50.
Rain Piano – A serious Upright piano with character! Used in countless productions both in music and media. Regular Price $49 Price now: $24.50.
INIL Choir – Original voices from 10CC's seminal production "I'm Not In Love". Released in cooperation with Eric Stewart. Regular Price $49 Price now: $24.50.
Renaissance Flutes – A complete set of recorders, Bass, Alto, Tenor, Soprano and Sopranino, beautifully played by one of Sweden's top flutists. Regular Price $119 Price now: $59.50.
Mk seventy-three – The Rhodes challenger! Recorded through a a Fender Twin – The way it was supposed to. Regular Price $140 Price now: $70.
BOB – Orchestral Brass – BOB gives you French Horn, Trombone, Trumpet and Tuba. Regular Price $98 Price now: $49.
SampleTekk Marimbas – This Marimba has all notes (A1-C6) sampled in stereo. No less then 8 velocities/note makes this Marimba one of the largest sampled marimbas on the market today. Played using hard, medium and soft mallets. Regular Price $49 Price now: $24.50.
Pump Organ – A small, simple organ with tons of charm! Nothing you would play the Toccata on, but try some Tom Waits songs! Regular Price $15 Price now: $7.50.
TBO, The Big One – Yamaha C7 Grand Piano with 93 unique samples/recorded note! Regular Price $199 Price now: $99.50.
Worra's Prophet – Classic analog synth voices in native Gigasampler Format. Over 600 megabytes of warm, retro keyboard sounds at an incredibly low price. Regular Price $30 Price now: $15.
and many, many more……….
The sale ends December 1st, 2012.
More information: SampleTekk