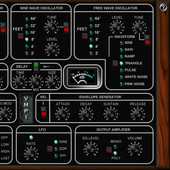 Samsara Cycle Audio has released a number of freeware plug-ins for Windows.
Samasara Cycle Audio is dedicated to bringing quality products for the creation of music and sound since being established in 2003. We provide 100% FREE Virtual instruments, effects and soundfonts.
Samsara Cycle Audio plug-ins
VMP1 – Virtual Mono Poly Analogue Synth.
RMS1 – Virtual Rackmount Synth.
E.S.P. – Enhanced Soundfont Player.
Big Beauty – Multi Effects Unit.
Samsara Cycle Audio plug-ins are available as a free download for Windows PC (VST).
More information: Samsara Cycle Audio