Sonica Instruments has released the sixth title in the Virtuoso Japanese Series. The Sanshin virtual instrument for Kontakt and the free Kontakt Player features the sounds of two sanshin models.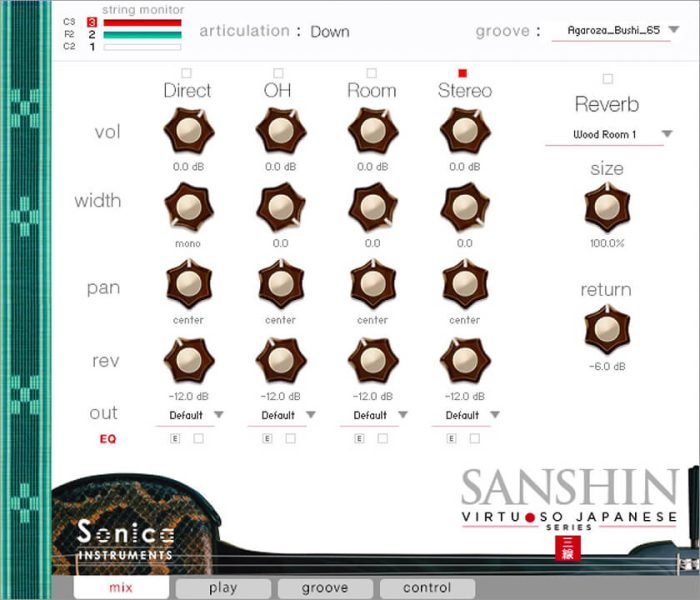 The sanshin, more than any other instrument, symbolizes Okinawan and Yaeyama music. The three-string instrument has had a tremendous influence on the rustic and earthy folk songs of Yaeyama and Ryukyu as well as on eisa folk dancing, pop music, and even rock.

Sonica Instruments has successfully sampled all the distinctive warmth of the sanshin's cozy tones, creating a comprehensive Kontakt library.

Besides capturing the raw sounds with absolute fidelity, we spent considerable time researching the sanshin and enhancing the library to allow performers to personalize the instrument to their taste.
Sashin features
2 sanshin models sampled with different tone characteristics: a modern genuine snakeskin model with bright, transparent tones, and a vintage genuine snakeskin model with very deep and rich tones.
Wide assortment of finger-whistling sounds essential for enlivening performances of Okinawan music.
9 picking styles, as well as finger-slide noises and string-muting noise.
Alternate picking function lets the performer play a succession of alternating downstrokes and upstrokes.
String mode mechanism specifies the string to be played to bring out the instrument's full range of expressiveness just like a real sanshin.
In addition to three preset tunings — standard tuning (hon choshi), second-string raised tuning (ni-age choshi), and third-string lowered tuning (san-sage choshi), the instrument's key can be freely transposed.
Tuning mechanism allows for relative volume adjustments and fine-tuning of each string.
3 plectrum types are available — fingernail, water buffalo plectrum, and guitar pick — with control over the picking impact component..
String character selector offers three types of strings: Thick, Normal, and Thin.
String mode controls the 3 strings independently to recreate authentic sanshin playing styles.
Keyboard legato function provides instant execution of hammer-ons, pull-offs, and trills.
257 sanshin accompaniment phrases recorded as MIDI grooves taken from 72 melodies based on traditional songs and folk tunes from Okinawa and Yaeyama.
Grooves are key-assignable for performance and can be dragged and dropped directly from the browser into a DAW and used as MIDI data.
All samples recorded in 24-bit / 96 kHz high resolution for vivid, powerful sounds.
Create your own mixes with the multi-microphone samples and a dedicated mixer with individual controls for Direct, Overhead, Room, and Stereo Mix.
Compatible with Kontakt Player / Kontakt full version 5.7.3 or newer.
The instrument library is available for purchase for the intro price of $212 USD until February 10th, 2021 (regular $250 USD). Virtuoso Japanese Series users can get Sanshin for $175 USD with the coupon code that is sent per email.
More information: Sonica Instruments