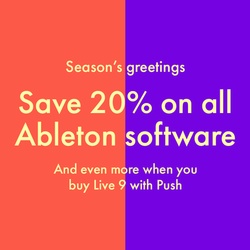 Ableton has announced a limited time 20% discount off all Ableton software and even more when you buy Live 9 with Push.
With this year's holiday season approaching, we're presenting a special offer to the Ableton community. From now until January 15, save 20% on all software.

Discounted items include:

New purchases of Live 9 Suite, Standard, and Intro
Upgrades to Live 9 Suite and Standard
Push/software bundles
Packs
Max for Live

When you buy Live, you'll also get the new improvements to Live 9.1 – including dual monitor support (see Session and Arrangement at the same time in different windows), the new melodic step sequencer for Push, higher-quality rendering, and more. Learn more about the improvements in Live 9.1. Presently, Live 9.1 is available pre-release as a beta.
More information: Ableton