Plugin Boutique has launched a sale on Blue Cat's Destructor, a powerful distortion and amplifier sim modeling tool capable of simulating any kind of distortion, from harsh digital destruction to smooth compression or guitar amp simulation.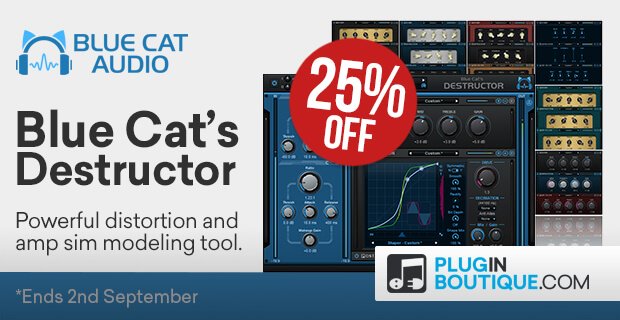 It is delivered with hundreds of presets and predefined models, either inspired by existing gear (guitar & bass amps or cabinets, compressors, pedals, tape machine)… or created by our destructive minds.

But the plug-in is not limited to these predefined models – all parameters of existing presets are fully editable, which gives you access to an unlimited number of distortion simulations – no need to purchase extra presets or amp models to build your custom tone.

Based on a perceptual model rather than on electronic designs or impulse responses, the signal chain is reduced to its bare minimum, simplifying the process of tweaking the tone and making it fit into the mix.
Destructor features
Powerful distortion and amp modeling tool.
Simulate any kind of distortion: analog or digital, guitar and bass amps, saturation, clipping, compression, bit crushing….
Works for "clean" sounds too.
Get started with several hundreds of fully editable presets, inspired by real gear.
More than 1400 visual styles to customize the user experience.
Control the dynamics with the input gate and compressor.
Control the tone with the pre and post filters.
Exclusive shape dynamics control: adapt the tone to the dynamics of the signal.
Use the internal or external side chain to trigger the distortion.
Protect your ears with the output brickwall limiter.
Comprehensive visual feedback: real time spectrum analysis, dynamic distortion curve display with embedded signal histograms.
Destructor is available for Windows and Mac, priced at only $74 USD until September 3rd, 2018.
More information: Blue Cat's Destructor