Plugin Boutique is offering a 30% discount on Instant Orchestra by Garritan, a revolutionary ARIA Player powered sound library that reinvents the way orchestral music is created by simplifying and streamlining the process.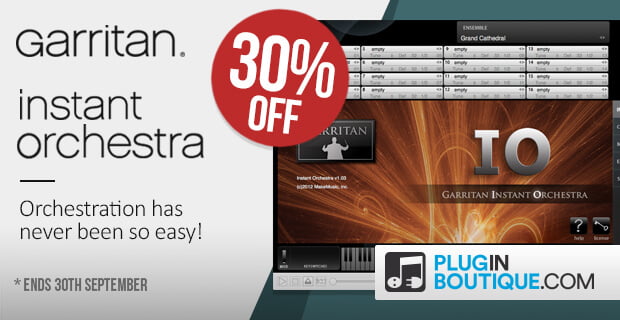 It is designed to create full cinematic orchestrations from just a few lines of music. With pre-packaged combinations and mash-ups, mood-based presets, and orchestral effects, you can evoke any emotion–instantly. It provides an empowering experience where almost any musician can sound like an A-list Hollywood composer, by simply creating just a few staves of music.

Garritan Instant Orchestra is a must-have library that offers an easy way to make super-quick orchestrations in minutes from start to finish. Achieve the larger-than-life orchestral sounds associated with film, games, TV scoring and music productions! The Instant Orchestra sound library integrates the uniquely powerful and high-performance ARIA Player.
Instant Orchestra is on sale for just £108 GBP / 118 EUR until October 1st.
More information: Plugin Boutique / Garritan Instant Orchestra