Plugin Boutique has launched a pre-launch sale on Audionamix IDC, an instant dialogue cleaner plugin for Windows and Mac.
Unlike traditional denoisers that learn and remove noise, IDC works by separating and preserving speech by reducing background interference without compromising the integrity of the dialogue.
IDC can succeed where other tools fail, such as with wind, room tone and complex, varying background noise like birds, insects and extraneous car and plane sounds.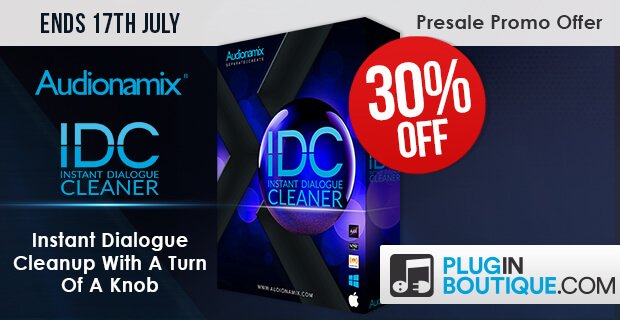 Introducing the IDC: Instant Dialogue Cleaner plug-in, the first real-time, cloudless solution by Audionamix. IDC offers immediate and effective dialogue cleaning technology through an intuitive interface and is compatible with many post-production and broadcast workflows.

The IDC plug-in is versatile and easy to use due to its unique, integrated DNN artificial intelligence that automatically detects and separates speech, no matter the surrounding content. Specifically, the software excels at addressing common audio issues including complex interference, wind, birds or insects, car and plane interference and roomy recordings. With the turn of a knob, users can clean up dialogue from production audio, field recordings, news and sports recordings, and more, making it the perfect tool for audio post professionals, dialogue editors, re-recording mixers, and broadcast engineers.
IDC features
Instant dialogue cleanup with a turn of a knob.
Real time, cloudless speech separation technology.
Works well with complex variable noise where traditional denoisers fail.
Dramatic cleanup (up to -24db gain reduction).
Available in VST, AU, AAX Native and AudioSuite formats.
Fully automatable plug-in settings.
IDC will be available on July 17th, 2018.
More information: Audionamix IDC