Plugin Boutique has launched a Black Friday Sale on MeterPlugs, offering a 30% discount on its effect plugins for a limited time only.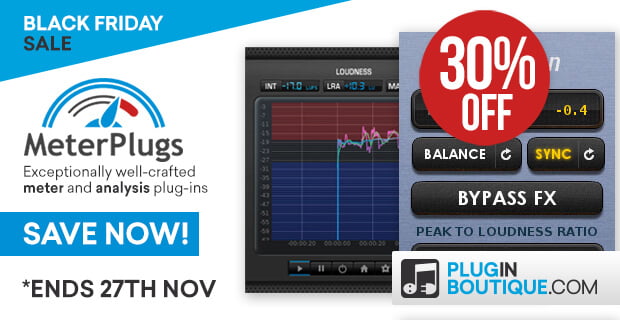 Focusing on providing you with exceptionally well-crafted meter and analysis plug-ins. MeterPlugs are the masters of Loudness!
Dynameter displays a measurement called PSR – the difference between the peak level and the loudness. Higher PSR readings are typically found with more dynamic recordings, whereas heavily limited or clipped material usually shows lower PSR values. Dynameter measures the PSR in realtime, and also displays a colour-coded history graph, giving you an intuitive snapshot view of the dynamic profile of your music.
K-Meter offers an alternative to extremely compressed audio by encouraging greater use of dynamic range. If you want your tunes to sound more open, nuanced and natural, this fully-compliant K-System meter is for you.
LCAST and LCAST Surround makes it easy to take loudness and true-peak measurements. They supports all the major loudness standards and has easy-to-use presets for the most popular ones: ATSC A/85 (CALM Act), ITU BS.1770 and EBU R128. Mono, stereo and surround formats are all compatible (surround only available in LCAST Surround). Use LCAST with Logic, Final Cut Pro X, Soundtrack Pro, Cubase, Nuendo, Reaper and more. LCAST has everything you need to create broadcast-ready audio.
Perception allows you to hear through "loudness deception" and make truly impartial, accurate decisions about the best possible sound for your music – quickly and easily. You can instantly bypass entire FX chains to make A/B comparisons of EQ settings, compression and more. Even better, Perception will level-match and sync your sources so that "loudness deception" and plugin delay do not influence your decisions.
The sale ends November 27th, 2017.
More information: Plugin Boutique / MeterPlugs