Plugin Boutique has announced a sale on Big Fish Audio's range of unique Kontakt instruments, offering a 30% discount for a few days only.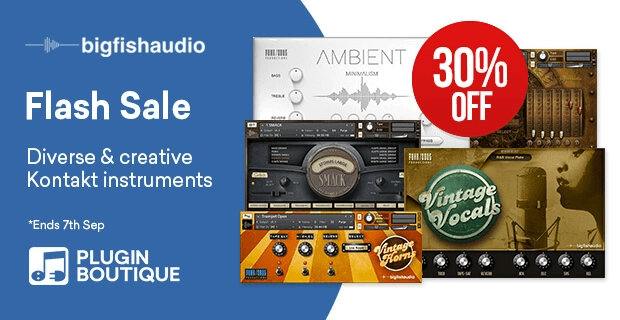 The sale includes:
Acou6tics.
Aeris: Hybrid Choir Designer.
Ambient Minimalism.
Ambient Minimalism 2: The Dark Side.
Electri6ity.
Epic: Cinematic Drums & Sound Design.
Fractured: Prepared Acoustic Guitar.
Grindhouse.
Mojo: Horn Section.
Mojo 2: Horn Section.
Sequence: Hip Hop Beat Creator.
Smack: Claps, Snaps & Stomps.
Street Percussion.
VI.ONE.
Vintage Horns.
Vintage Horns 2.
Vintage Rhythm Section.
Vintage VI.
Vintage Vocals.
Vital Series: Mallets.
Vital Series: Sticks.
Zodiac.
The offer expires September 8th, 2020.
More information: Big Fish Audio