Plugin Boutique has announced a sale on Krotos, offering 30% off on all its intuitive sound design products for post-production, game audio and music.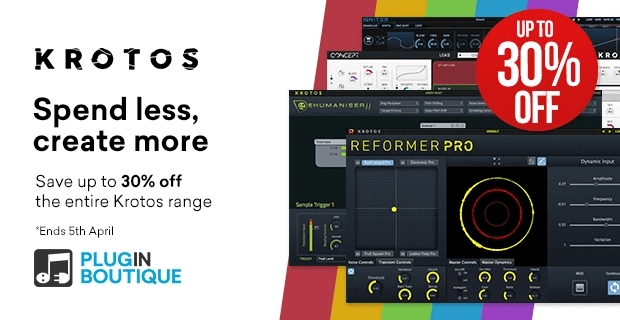 The sale includes the Concept synthesizer, Reformer Pro, Weaponiser, Igniter, Dehumaniser 2, and the popular Dehumaniser Simple Monsters.
Dehumaniser Simple Monsters is a powerful vocal processing tool perfect for a range of vocal effects, from monsters to robots and many more. Using Dehumaniser 2's engine, Krotos have distilled its many parameters down to five main monster voice elements, offering incredible flexibility while streamlining your voice effects creation workflow.

These five elements, controlled with sliders, interact and influence each other dynamically. Set the overall feel with the size, age and character parameters while using wildness and fury to shape your monster's personality. Monsters made easy.
Dehumaniser Simple Monsters is on sale for $69 USD. Bundles are 20% off during the promotion.
The offer expires April 6th, 2020.
More information: Krotos