Plugin Boutique is offering an exclusive 30% discount on selected Voxengo audio effect plugins through the month of September.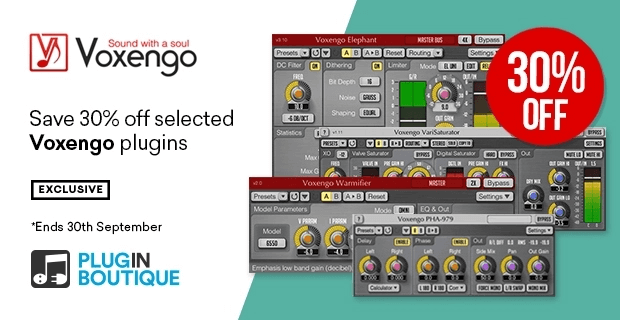 Voxengo Elephant is a mastering limiter plugin for professional sound and music production applications. The most remarkable feature of this signal limiter is its sonic transparency. Elephant brings sound limiting and loudness maximization without audible "fuzz" and "pumping" sonic artefacts.
PHA-979 allows you to apply an arbitrary phase shift to sound material. What is meant by the phase shift here is simultaneous shifting of all frequencies across the active frequency range of the signal by the given value in degrees. This is achieved by linear-phase design.
VariSaturator is designed to apply saturation effects to audio material. VariSaturator can be used both to boost the loudness of the audio tracks without increasing their peak levels proportionally, and to apply subtle harmonic coloration that makes tracks sound more pronounced and polished.
Warmifier is a special plugin which processes audio signal in a way similar to analog valve equipment. By using Warmifier you can achieve valve warming and "console" coloration effects. Warmifier is applicable both to the complete mixes and to the individual instrument tracks.
Prices are starting from $27.96 USD during the promotion. The offer expires October 1st, 2020.
More information: Voxengo