Plugin Boutique has launched a sale on the Softube FET Compressor effect plugin and Heartbeat, a flexible and tweakable drum synthesizer instrument.

The FET Compressor is an impressively faithful modeling of one of the most iconic compressors of all time.

FET Compressor is loved for its aggressiveness and its tendency to add some tasty distortion to the sound source when driven hard. This compressor loves to be slammed and abused. But few things are so good they can't be improved, so we added a couple of nice features that makes it even more flexible than the hardware original.
FET Compressor features
Sweet input and output stage distortion.
Super fast attack time (just like the original).
Lookahead (in case you don't find the original's attack time fast enough).
Modeled "All buttons in" mode.
Continuous ratio (even between 20:1 and ALL) – but if you want the fixed ratios of the original, just click the ratio labels around the knob.
Parallel compression.
Detector low and high cut filters.
External side chain.
Stereo with synchronized gain reduction.
Very CPU friendly.
Meticiously modeled analog compressor. Each single stage of the analog unit has been modeled separately to achieve the exact sound and behavior of the original analog unit.
Heartbeat offers familiar, yet unique, drum machine sounds.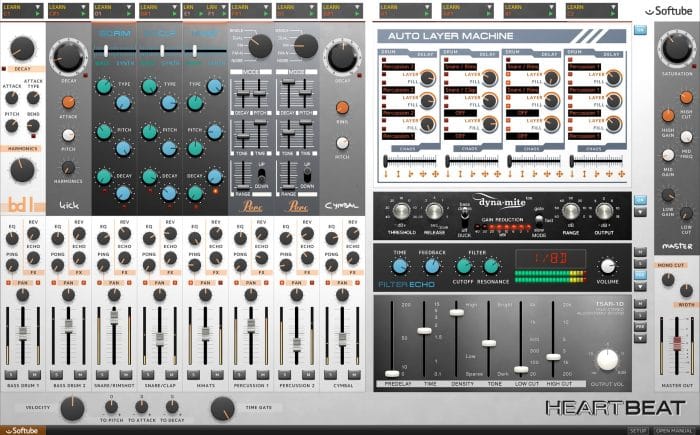 Classic drum synthesis is back with a vengeance! Flexible and tweakable—Heartbeat is your source for familiar, yet unique, drum machine sounds. Use the built-in effects and the innovative Auto Layer Machine to take your beats to unexpected places. Or use Heartbeat's instrument and EQ modules in Modular.

Heartbeat is likely to cause severe palpitations.
Heartbeat features
Eight channels of drum sounds, mostly based on modeled analog synthesis.
Mixer with volume, EQ, effect sends and panning for each channel.
Four channel Auto Layer Machine for layering sounds or triggering beat patterns.
Chaos slider adds randomness to the behavior of Auto Layer Machine.
Adapted versions of TSAR-1 Reverb and Valley People Dyna-mite included, as well as Filter Echo and output saturation.
Use Heartbeat's instrument and EQ modules in Modular (this applies only to these components, not TSAR-1 and Dyna-mite).
No iLok USB dongle required.
Softube FET Compressor and Heartbeat are available for Windows and Mac (VST/AU/AAX) at a 33% discount from Plugin Boutique until February 28th, 2017.
More information: Plugin Boutique / Softube