Plugin Boutique has launched an exclusive sale on the Glitchmachines Loyalty Bundle Upgrade, a promotion in which current Glitchmachine users can save 40% off on a bundle comprising Subvert, Croygen, Fracture XT and Polygon for a limited time only.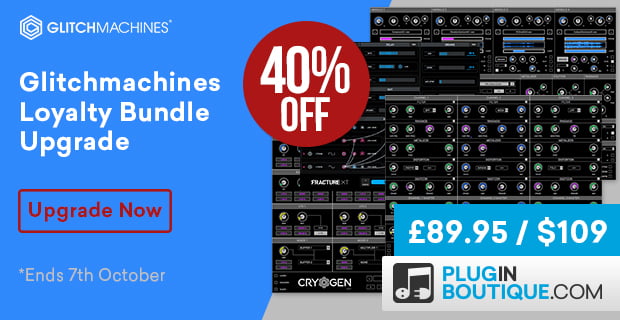 Adventurous sound designers and electronic musicians can push the envelope to infinity with this bundle, featuring our unique collection of forward-thinking Samplers, Sound Generators and Effects Processors.
The bundle includes:
Polygon is a sampler geared toward electronic music production and experimental sound design.
Cryogen is modular buffer effects processor designed to generate abstract musical malfunctions.
Fracture XT is a patchable glitch processor designed to facilitate the creation of mind-bending malfunctions, contorted articulations and evolving digital textures.
Subvert is a savage 3-channel distortion processor designed to decimate the frequency spectrum.
The bundle is on sale for only $109 USD / £89.95 GBP.
If you're new to Glithmachines, make sure to check out the deals on the Quadrant modular sound generator and effects processor which is on sale for only $5 USD, and the Chimera sample pack with 200 designed sound effects inspired by demons, ghosts and creatures from the darkness, on sale for only $1 USD!
More information: Glitchmachines