Time+Space has announced a limited time promotion on Ozone 5 Advanced, the mastering system by iZotope.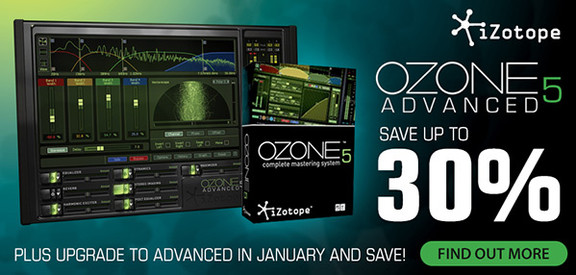 Whether you´re looking to upgrade from an older version of Ozone or are completely new to iZotope´s critically acclaimed mastering suite, there´s a special deal for you with lower pricing on Ozone 5 Advanced and Upgrades throughout January at Time+Space.

The process of mastering ranges from correcting mistakes made in the mix to preparing a recording for target listening environments. Like a final coat of polish, mastering makes the difference between a good-sounding mix and a professional-sounding master.

Ozone 5, with its eight essential mastering tools – Maximizer, Equalizer, Dynamics, Stereo Imaging, Post Equalizer, Harmonic Exciter, Reverb, and Dithering – makes it easier than ever for anyone to master their audio simply and efficiently.
Ozone 5 Advanced is now available to purchase for £499 GBP / 551 EUR (30% off). Various upgrade offers for Ozone 5 and Ozone 5 Advanced are also available.
The promotion ends January 31st, 2014.
More information: Time+Space