Today we've launched an exclusive sale on Slam Pro, the "Mix Phattener" effect plugin by BeatSkillz that helps you shape your drums, bass, synths, vocals and more with ease.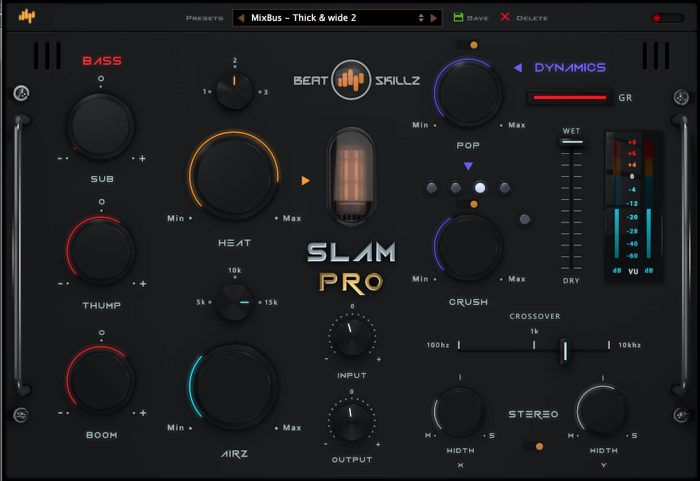 Slam Pro is a simple, yet powerful tool with just the right controls to dial in the sound that you desire, quickly. Pro Engineers use a combination of various processes to achieve great sounding tracks consistently. Slam Pro brings you such a combination of hardware emulations done "perfectly" bringing the same workflow to your setup.
Slam Pro features
Bombastic BASS! — Add or cut the "Thump, Boom or Sub" Bass to your track. Add thump to kicks or boom to 808s and also remove mud in seconds.
Heat / Airz — Garnish your track or mix with Tube/ Tape Saturation (3 types selectable). Add "Clarity" to your mix or track with the Airz control (3 freq. selectable high shelf filter).
Pop / Crush — Use any of the 4 types of compression (POP) to glue, add punch, or control your track dynamics, and then "Crush" for adding loudness to your track or mix.
Stereo Width — Use the Band slider to set the crossover for 2 bands of stereo expansion. Widen your track, yet keep the bass frequencies in the center. Full control of your stereo width with no hassle.
Slam Pro is available for Windows and Mac (VST/AU/AAX), priced at just $74.50 USD through February 18th, 2018. Use coupon code SLAMDEAL50 at checkout to take advantage of this offer.
Make sure to subscribe to our newsletter so you don't miss out on future deals.
More information: Slam Pro Deal